#1 Puzzle Game in over 20 Countries!
Sometimes you've just gotta look at things from a different angle.
Mind-bending puzzles
kubic is a relaxing optical illusion puzzle game based on M.C. Escher's art, impossible objects and other geometric designs. The object is to construct the goal configuration from a number of pieces.
Presented in a simple, clean design and minimalistic art, kubic is a premium game with no ads or in-app purchases. It's just your brain and 60 escher-esque puzzles.
When you click on a piece, it pops to the front-most layer, and may overlap other pieces. When you combine the pieces, they do not merge. If there are extra pieces, you may hide them behind the others. If you are stuck on a puzzle you can simply skip it and re-visit at a later time. Rest assured, all puzzles can be solved. Tip: It helps to build figures from back to front.
Levels divided in 5 groups:
• Ocean (Blue) – "2D" Shapes are basically two-dimensional arrangements.
• Desert (Orange) – "3D" Shapes appear to be three-dimensional, but remember to think in two dimensions.
• Mountain (Purple) – "Convex/Concave" These optical illusions are inspired by Escher's famous "Convex and Concave" lithograph.
• Sky (Green) – "Up/Down" These optical illusions are inspired by the Penrose Triangle featured in Escher's lithograph "Waterfall".
• Escher (Mixed) – Based on letter designs that spell out MC ESCHER.
Convex Concave puzzles from the Heaven and Earth game are included with permission, please see below for further information.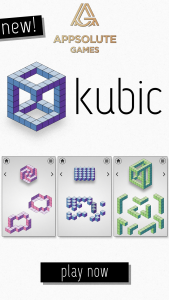 Features
Cloud Saving
No Ads
No timers
No scores
Leaderboard & achievements
Soothing Music
Reviews

If you've seen any paintings by MC Escher, Kubic will be very familiar to you. This quirky puzzle game bends the limits of space and reality to make you create structures that, in theory, should be impossible to replicate. Kubic Review – Playing with shapes

Pocket Gamer
Kubic è un nuovo puzzle game per iPhone e iPad, sviluppato da Appsolute Games, che si distingue per un'interfaccia molto semplice e per un gameplay perfetto per veloci sfide. Kubic un nuovo puzzle per iPhone e iPad

AVR Magazine
Music & SFX Credits
Music

Peaceful Drops
License Type: Extended License
Artist: Dream Sight Music
Composer: Irina Kakhiani (No PRO affiliation)
Publisher: Lynne Publishing (PRS) via Shockwave-Sound.Com Royalty-Free
Sound Effects
This game uses the following sound files from Freesound (
http://www.freesound.org
):
"ChimeBar_G6_ND.wav" by acclivity
"swosh-22.flac" by renatalmar
"ambientBell.wav" by Divinux
"ding.wav" by Fratz
"thunk.wav" by Reitanna
"processed swish, swoosh, whoosh" by byMax
kubic is developed by Pixel Envision and published by Appsolute Games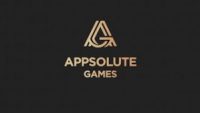 Heaven & Earth
The puzzles were designed by Scott Kim, Puzzlemaster (scottkim.com), and the Heaven & Earth team: Brad Fregger, Michael Feinberg, Michael Sandige, Ian Gilman & Scott Kim. For more information regarding the original game you may visit Ian Gilman's Heaven & Earth dedicated web page. Special thanks to Michael Sandige for granting permission to use "convex concave" puzzles.
Comment, Request & Bug Report