Pixel Envision is an independent game studio specialising in the development of mobile applications for iOS, Android. We are a husband-wife team that combines years of industry experience, creativity and knowledge to create high-quality casual & hypercasual games and apps for kids.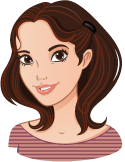 Armağan Üçok Gönenç
She has devoted herself to illustrating children's books & apps. Sample of her work can be found at her website. She has a bachelor's degree in 2D traditional cel animation.
Traditional 2d cel-animation
Mascot/Character design
Children's Book illustrations
Vector & Digital painting with her Wacom
Erdener Gönenç
He has loved technology since his first computer, a Sinclair ZX Spectrum. His first passion was 3D animation, starting with the 3D Studio R4 on DOS, with which he created art for TV commercials and other media. He has been working as a PHP/MySQL developer and Flash AS2/3 designer for the last decade. He has a bachelor's degree in cinematography.
Programming (C#/Java/Lua/PHP/MySQL/Perl)
3D animation (3DSMAX/Maya/Poser)
Flash development (AS2/AS3)
Video Editing / VFX
Gizmo the Miniature Schnauzer
Our sweet angel, best friend, mascot & beloved dog, passed away April 9th, 2016, 11 years old. We're thankful to him spending his time on Earth with us and giving us joy that we cannot even imagine before. You will be sorely missed…