Just for toddlers & kids!
All animals with sounds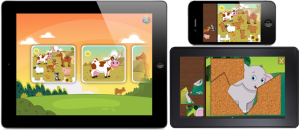 A fun puzzle game for toddlers and kids from ages 1 to 6 featuring 26 cute cartoon animals such as cow, horse, goat, sheep, pig, dog, elephant, giraffe, monkey, lion, dolphin, owl, rhinoceros, zebra, parrot, tiger, turtle and more in 30 shape & tangram puzzles!
When a puzzle is completed children are rewarded with a variety of fun celebrations and interactions such as balloon popping. The fun matching activities help improve visual perception, knowledge of shapes & develop fine motor skills by dragging and dropping puzzle pieces to match their holes. Perfect for preschoolers.
Features

Animal Sounds! (excluding sea animals, giraffe & turtle)
Kids Safe! please see our Privacy Policy
Original high quality cartoon art drawn by professional children's book illustrator
Four different themes: Farm, Jungle, Sea (Underwater) & Savannah
Automatic advance to the next puzzle
Three different puzzle styles with increasing difficulty levels
Interface & touch controls designed for toddlers
Press & hold button to limit menu access to parents
Option to hide/show locked puzzles to prevent accidental purchases
3rd Party Credits
Sound Effects
This game uses the following sound files from Freesound (
http://www.freesound.org
):

"bamboo1.wav" by PercussionFiend

"cf_FX_batch_jingle_glock_N--kloing.aif" by cfork

"Crowd Claps and whistles.wav" by club sound

"Balloon pop.wav" by Mart1001

"Bubble Pop.wav" by blue2107

"hit-wood03.wav" by horsthorstensen

"KeyPickup.wav" by wildweasel

"slide_whistle_down_01.wav" by joedeshon

"smallcrowd.wav" by sagetyrtle