Pure whip swinging action.

Indiana Jones Style
To become the world's most famous adventurer, pick up your trusty bullwhip and travel as far as you can across a field of spikes by swinging along the ceiling. Once you've started, there's no rest until the game is over. Your whip is all that keeps you safe from a world of spikes below. You have to use all your skills in order not to fall down, try to do your best!
Game play is easy to learn but hard to master. If you hit a gap between the tangled branches you may fall into the spikes below. As you progress in the game, gaps become more frequent and larger, the spikes raise up and you'll need to avoid geysers and sharp rock pillars! Whip Swing is perfect for a 5 minute break but beware, it's hard to stop playing.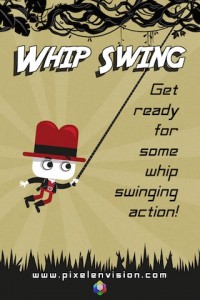 Features
Simple one-touch gameplay and quick replays
No Ads, No in-app purchases
Save & share your progress and unlock achievements on Game Center
Using the integrated Social Media sharing, easily share a screenshot of your best distance on Twitter, Facebook and more!
Review
The true stand out of this game though is the games unnamed exploratory star. Many times playing the game I found myself mesmerized by the character's design and subtle motion as he swung from branch to branch. Upon hitting the spikes several spots of blood appear on the explorer and he closes his eyes which gives him the look of the cutest skeleton I've ever seen. Truth be told, as at home as this character is in Whip Swing, he'd be just as at home in a 2D adventure platformer for iOS–and that's a game I'd love to own.

Confessions of a Jersey Geek
3rd Party Credits
Music

Jungle Pursuit
License Type: Extended License
Artist: Stuart Duffield
Composer: Stuart Duffield (PRS)
Publisher: Pond5 GmbH Royalty-Free
Sound Effects
This game uses the following sound files from POND5 (
http://www.pond5.com
):

"WHIP" by Sound Ideas

"STEAM, RELEASE" by Sound Ideas

"Woohoo" by Martyn Harvey

"Body Falls 02" by Audio Guru

"cartoon game voice - wounded" by Andrew GCN Fleming