Farm Animals!
Can you spot them differences?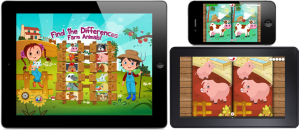 Find the Difference for Kids is a fun game of spotting the difference in 12 scenes with cute cartoon farm animals. With 3 levels of difficulty and by randomizing the differences for each scene, there is a challenge for everyone with a great replay value.
The clock is ticking, compare the images and find all of the differences quickly but be careful, each mistake will cost you time against the clock. Kids from 5 to 9 will have fun finding the differences and your child will develop and improve his or her visual skills and their sense of observation while playing this game.
Features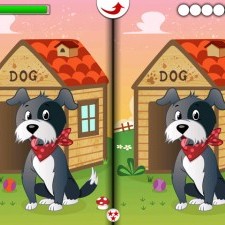 Kids Safe! please see our Privacy Policy
Original high quality cartoon farm animals drawn by professional children's book illustrator
Each difference taken from a pool and randomized on every play, finding them will not be easy
3 levels of difficulty settings, two with countdown timer
Captivating country themed music with volume control
3rd Party Credits
Music

License Type: Extended License
Artist: Alexander Khaskin
Composer: Alexander Khaskin (SOCAN – CAE#: 231945867)
Publisher: Lynne Publishing (PRS – CAE#: 541626758) via Shockwave-Sound.Com Royalty-
Sound Effects
This game uses the following sound files from Freesound (
http://www.freesound.org
):

"Error.wav" by Autistic Lucario

"light switch.wav" by ice9ine

"applause_8sec_2.wav" by m1rk0

"Sad Trombone.wav" by Benboncan

"bell.wav" by Erratic