Halloween potion making fun!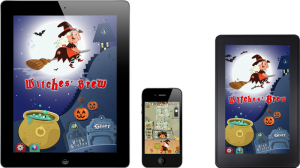 Witches' Brew offers action-packed potion making fun for your kids and the whole family! Help the witch to collect the correct ingredients for her spells. But make sure you avoid touching the mushroom and the voodoo doll while you master all the potions.
Witches' Brew includes a physics-enabled collision system, a cinematic soundtrack, funny animations, HD graphics, easy tilt control gameplay, two difficulty settings, 100 levels and GameCenter support….that's one witchin' app!
Features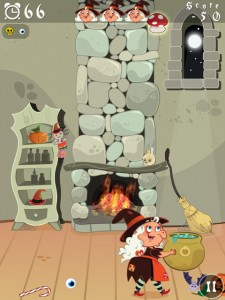 Test your skill through 100 levels
Play with a physics-enabled collision system
Easy one-handed tilt control gameplay
Choose from 2 difficulty settings suitable for players of all ages
Orchestrated cinematic soundtrack
Funny animations and immersive sounds effects
Game Center enabled with 800 points in 12 achievements
Reviews
A simple holiday offering, Witches' Brew HD is a surprisingly fun little Halloween game. Using tilt controls whose sensitivity can be adjusted, players guide a cartoonishly funny witch as she tries to fill her cauldron with the ingredients to her magical elixir.
Witches' Brew HD Review

148apps.com
Witches' Brew over all is a fun Halloween game to play with all age levels.

IHeartThisApp.com
3rd Party Credits
Music

Mr. Tiny
License Type: Extended License
Artist: Dynamedion Royalty-free
Composer: Stefan Bode (no PRO affiliation)
Publisher: Shockwave-Sound.Com Royalty-Free

A Midnight Symphony
License Type: Extended License
Artist: Dream Valley Music
Composer: Michael Stephen Decker
Publisher: Shockwave-Sound.Com Royalty-Free

Monster Factory
License Type: Extended License
Artist: Dynamedion Royalty-free
Composer: Stefan Bode (no PRO affiliation)
Publisher: Shockwave-Sound.Com Royalty-Free
Sound Effects
This game uses the following sound files from POND5 (
http://www.pond5.com
):

"Witch cackle laughter" by FxProSound

"Witch killer hit" by FxProSound
This game uses the following sound files from Freesound (http://www.freesound.org):

"wood3.wav" by wild weasel

"glass D.wav" by THE_bizniss

"bell.wav" by Erratic

"plons1.wav" by Anton

"light switch.wav" by ice9ine

"Owls.wav" by inchadney

"sonokids-omni-19.wav" by Corsica_S

"Alien windbells down.wav" by jobro